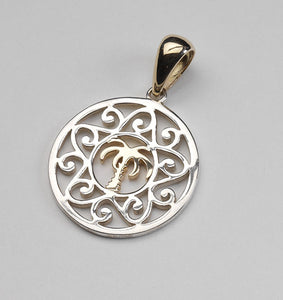 This finely crafted Palmetto Scroll Pendant shows off the beauty of the palmetto tree with its detailed 14K gold and sterling silver design. The large size of the pendant is perfect for grabbing attention and adding a subtle statement to any outfit. The Pendant is Enhance with a Gold Bale.
Retired Southern Gates® Pendant, 14K Gold & 925 Sterling Silver, 25MM.

Chain Sold Separately.